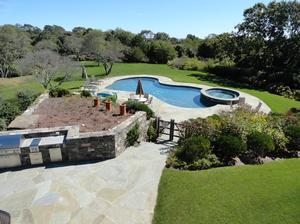 Second story view of a new outdoor living area. Both patio and kitchen area were done in irregular blue stone.
Stonework - Landscaping Services
Whether for form or function, stonework in your landscape design lends a sophisticated appearance to any style of home, while simultaneously increasing its value.
Our 30 years of experience in the design and installation of walkways, stepping stone pathways, patios, and retaining walls has led to an extensive portfolio of timeless designs. Our masonry crew has been a staple of our company from the very beginning, and their expertise in their field provides you with cost & time efficiencies, as well as a quality installation that you will be happy with for years to come.
Please take your time to browse this section. We have selected photos that showcase the variety of design layouts and materials that we most commonly use. We by no means use exclusivley these designs or materials, so please do not hesitate to contact us with questions regarding your specific project.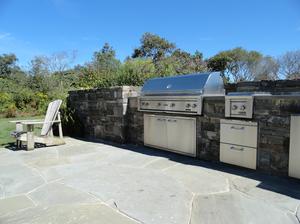 Additional view of outdoor kitchen area, done primarily in blue stone.