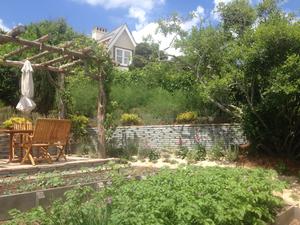 An overgrown corner of this property is now boasting an inviting outdoor living space. A stone retaining wall keeps the hillside at bay, while simultaneously adding an eye-level planting bed.
Retaining Walls
Retaining walls are not only aesthetically pleasing in landscapes, but they serve many practical functions as well:
Erosion control
Soil retention
Improving drainage
Creating a larger usable area of the yard
Added market value
Eye-catching aesthetic qualities
Is your property nestled into a hillside? Keep that hillside soil in place during heavy rains with a retaining wall. Always wanted a flowering perennial bed, but your property has minimal lawn space? No need to sacrifice it all with the addition of a retaining wall. Call us today to schedule an appointment to discuss individual options for your property.