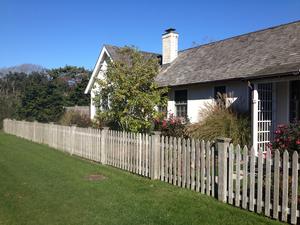 Our classic picket fencing, a compliment to just about any home style.
Carpentry
Over the last several years, the desire for outdoor living spaces has become increasingly popluar. The addition of a pergola to the landscape immediately creates a secluded seating area where intimate dinners can be hosted, or where you can curl up with a favorite novel under the Wisteria. Or maybe a simple deck is more your style. Do you want to be able to let your dogs roam the yard without the anxiety that they may run into the street? Or are you trying to keep the ever-growing population of deer away from your prize roses?
Whatever woodworking needs you may have, we can create the perfect solution for you. Our full time Carpentry crew has been perfecting their craft for over 30 years, so you can be confident that you will get exactly what you've been looking for. 
Some of our specialties include:
Fencing
Pergolas & Arbors
Walkways
Stairways
Decks & Small Custom Landings
Please do not hesitate to contact us with any questions regarding specific projects.